Studio Indigo Collaborates with AMELS Shipyard on New 60m Yacht
Studio Indigo is delighted to reveal its latest collaboration with AMELS shipyard. Last week AMELS unveiled their new AMELS 60, the brand new Espen Øino design in the Dutch luxury yacht builder's Limited-Edition range. The 60m superyacht, with Hybrid technology, is now under construction and available for spring 2022 delivery.
AMELS invited Studio Indigo to create a design concept for the AMELS 60 interiors. Espen Øino's striking new external design marked an entirely new direction for the Amels Limited Edition series, and Studio Indigo set about their design concept in a similar fashion, by taking some of the styling elements of the new exteriors and translating them into a fresh new interior concept.
"We refined the GA to make the space as ergonomically efficient as possible, generating a layout that seeks to maximise the perception of space and flow," Mike Fisher, Creative Director explains. "This was achieved by opening up the views and vistas between spaces to make them feel bigger, lighter and brighter. The interiors are chic and contemporary, using a rich variety of fabrics and textures throughout, allowing the guests onboard to experience different atmospheres that surprise and delight as you walk through the AMELS 60″.
The Studio's Design Director David Waite-Wright, who led the design process, worked alongside Interior Designer Giorgia De Marchi to create a sophisticated and exciting interior that is bold and yet timeless.
''Working with AMELS and Espen has been a real pleasure! As a Studio we thrive on collaborating with innovative designers and shipyards. It is hugely rewarding to see this project come to fruition – a testament to the fresh approach to design and inventiveness the whole team has brought to the AMELS 60″ says James Kandutsch, Joint Managing Director.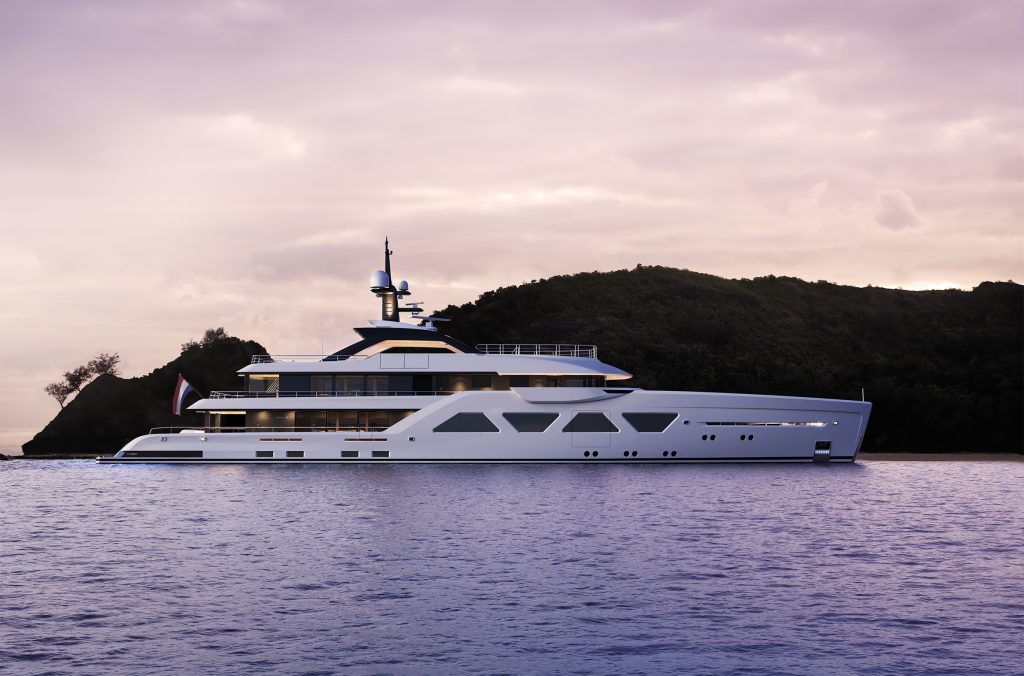 Espen comments: "The AMELS 60 is a package that no-one else can offer at this time. It's a very well thought-through design where we incorporate all the experience AMELS has as a builder and we as designers. I think it is truly a design that reflects the future. I can't wait to see her being built, to experience her. It will be instantly recognisable when she hits the water in 2022."
AMELS naval architects, in collaboration with parent company Damen Shipyards' in-house Research Laboratory, developed the AMELS 60's all-new hull form. The new naval architecture provides the optimum combination of full displacement comfort with fuel efficiency.
Watch Studio Indigo's interview with Amels here
SEE MORE OF AMELS 60 INTERIORS